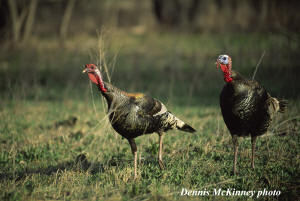 Spring Turkey Hunting for
Mountain Merriam's
Call me elated. Spring turkey season has arrived. Once again, the forests hold the promise of adventure, of turkey flocks found and lost again, of talkative hens and silent gobblers, of strutting silhouettes on distance ridges, of a gang of jakes mugging a decoy, of rousing sunrises and sleepy afternoons, and of sitting long periods with your back against the trunk of a towering ponderosa while absorbing the spirit of the forest through immersion.
Before the season ends May 21, approximately 12,000 turkey hunters will venture forth into the forests. The 738 hunters that drew limited licenses this year will look east to the Plains, where they will engage Rio Grande wild turkeys along the narrow corridors of riparian habitat in river bottoms. Rio's are birds of habit, often roosting in the same tree each night and feeding in the same fields by day. Rio's are easy to locate and hunting them is relatively uncomplicated.
The rest of us, however, will buy our license over the counter and head for the hills to match wits with Merriam's turkeys, notoriously nomadic birds with plenty of room to roam. While most hunters realize that hunting Colorado's native wild turkey subspecies on its own turf can be an arduous task, they also realize that the challenges can be met and overcome, and therein lies the adventure.
Merriam's Turkey Hunting
The first challenge when spring hunting for a Merriam's turkey is selecting a place to hunt, which is not particularly difficult considering that Merriam's turkeys now inhabit approximately 19,000 square miles of forest lands in Colorado. A good starting place is the distribution map found on the DOW turkey hunting home page. http://wildlife.state.co.us/Hunting/Turkey/
To narrow the search, Division of Wildlife hunter outreach coordinator and veteran turkey hunter Jim Bulger recommends learning to recognize Merriam's turkey habitat. Bulger has more than 40 years experience hunting wild turkeys. He started when he was eight years old, hunting eastern turkeys in Alabama, and has hunted them ever since. Last season, he was fortunate enough to call in numerous jakes and gobblers while tutoring novice youth hunters in the DOW outreach program.
Bulger said habitat requirements for Merriam's turkeys during the breeding season includes three basic elements; Safety, forage, and nesting habitat. "In general, look for open meadows inside those mountain valleys where you have aspen groves and grassy areas with ponderosas nearby for roosting," Bulger said.
Merriam's turkeys find safety in the upper limbs of larger pine and cottonwood trees, where they roost safely out of the reach of predators.
Wild turkeys are opportunistic, foraging on the forest floor for seeds, grasses, forbs, and insects. Grasshoppers are essential for poults, which require a lot of protein in their diets.
Merriam's hens nest in open grassy meadows where the grass canopy is about 18-inches high. Nest sites often are located near a water source, such as a stream or a pond.
TURKEY HUNTING TIPS
Don't get caught up in the Opening Day frenzy, the best hunting typically occurs toward the end of the season when hens are on the nest. Some veteran hunters do not hunt until the second gobbling peak, which occurs in May. When a nest is destroyed by predators or weather, the unfortunate hen may try nesting again and will need a male.


Move around when scouting an area. Merriam's turkeys tend to roam; finding them on large tracts of mountainous terrain can be difficult. If possible, arrive a day early and scout the area on foot and by vehicle. Drive the most likely-looking roads at dusk, stopping occasionally to call and listen for gobbles. Mature males usually gobble for several minutes after they fly up into the roost tree. Shock calls, such as crow, owl, and coyote calls, may incite the males to gobble from their roosts after dark.


Wild turkeys leave behind a lot of sign as they forage about on the forest floor. Learn to recognize their droppings, feathers, scratching, and dusting areas. An area with a lot of fresh sign may be worthwhile to hunt, even if turkeys are not seen or heard.


Learn to sit perfectly still and don't skimp on camouflage. Turkeys are especially aware of movement. Wear camo clothing that covers everything, including face and hands.


Don't quit early. Gobblers sometimes are easier to call later in the day, after the hens have lost interest in the mating game.


When a gobbler stops short or becomes "hung up" (refusing to move closer), try moving away a short distance and resume calling. The gobbler may follow if he thinks that the hen is moving away. Under the same logic, do not call while moving toward a gobbler.


Learn to use more than one type of turkey caller. Box calls, slates, and mechanical plunger calls are the easiest to master. Mouth calls require more practice but produce excellent tones and keep both hands free.


Pattern your shotgun before hunting. Use a full choke and avoid shots over 30 yards unless your confidence warrants a greater distance.


Shoot the turkey in the head and neck. Sit perfectly still when you can see the turkey's eyes. Shoulder your gun when his head is hidden behind his tail feathers and be prepare to shoot the moment that his head and neck are in full view.


Sleep with the turkeys. Make camp in the heart of the best turkey habitat that you can find. Maybe you will hear a gobble in the night; maybe not, but there is something about waking up in the middle of turkey country that heightens the senses.


Any Merriam's male turkey that you call in and kill is a trophy, no matter how long the beard or the spurs.
Teller County game units include Units #59, #511, and #581. These units allow spring and fall turkey licenses to be purchased over the counter through any Colorado licensing agent.
by Dennis McKinney Colorado Department of Wildlife
| | | |
| --- | --- | --- |
| Activity Quick Links | | Discounts & Promotions |
| | | |