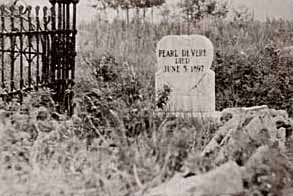 Mt. Pisgah Cemetery Tour
History, and the ghosts from the past, come to life during the annual "Mt. Pisgah Speaks Cemetery Tour". The Gold Camp Victorian Society, dedicated to the preservation of the history of Cripple Creek, hosts this unique tour. Complete with character reenactments at different locations through the Mt. Pisgah Cemetery, visitors will learn about the famous and fascinating characters that lived in this area and are buried in the Mt. Pisgah cemetery.
Date:
The tours will only take place on one day, Saturday, September 18, 2010. Don't miss this event and get here early!
Time:
Tours will leave every half hour starting at 9:30 a.m. The last tour will leave the District Museum at 2:00 p.m.
Parking:
Visitors are asked to park at the Cripple Creek District Museum, located at 5th Street and Bennett Avenue, next to the Cripple Creek & Victor Narrow Gauge Railroad Depot. Cripple Creek's historic trolley will take visitors from the museum to the cemetery - please do not park at the cemetery.
Concerns:
This walking tour may be difficult for people with health problems.
Donations:
Donations benefit the Gold Camp Victorian Society's historic preservation efforts.
The following donations are requested:
$8.00 per Adult
$15.00 per Couple
$5.00 per Child under 12