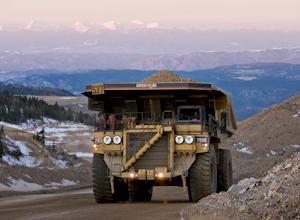 Cripple Creek & Victor Gold Mine Tour
The Cripple Creek & Victor Gold Mining Company ("CC&V") operates the current day Cresson operations, the largest gold mine in Colorado just outside of Victor. A guided tour of the mine is offered during the summer months.
Driving through the area you will see signs of active mining in just about every phase. From the valley fill/gold recovery operation along Highway 67 near the Little Grouse Mountain Overview, to the surface mine seen from the American Eagles Scenic Overlook, you will gain a perspective of the modern gold mining methods keeping Victor's gold mining legacy alive. CC&V is a joint venture operation between AngloGold Ashanti (Colorado) Corp and GCGC.  AngloGold Ashanti (Colorado) Corp is a wholly owned subsidiary of AngloGold Ashanti North America Inc. CC&V headquarters are in downtown Victor.
Tours are about 2 1/2 hours in length and begin at the Victor Lowell Thomas Museum in Victor, Colorado, promptly at 10 a.m. and 1 p.m. Be sure to arrive 15 minutes prior to your tour time to sign waivers and view a safety video. Reservation holders who do not arrive 15 minutes early may be replaced with a standby and your reservation will not be refunded.
Maximum on each tour is 13 for morning tours and 14 for afternoon tours (van capacity).
Cost of the tour is $5 per person.
All cancellations and changes are subject to cancellation fee of $2.50 per person.  Cancellations or changes must be made at least 24 hours prior to 9 am on the
tour reservation date.  All cancellations or changes made within 24 hours of the tour reservation date will not be refunded.
All tour participants must sign a release form; parents of children under 18
must sign the release form for the children.
No children under 5 are allowed on tours.
Tour participants must wear closed toe shoes (no sandals allowed) and will
be required to wear hardhats and safety glasses provided by CC&V.
To make a reservation by phone, please call 719-689-4211 and leave a message
with your tour date and time desired.
2010 Mine Tour Schedule:
10 a.m. & 1 p.m.
June - Tuesday, Wednesday, Friday, Saturday
July-Sept. 4 - Monday, Tuesday, Wednesday, Friday, Saturday.