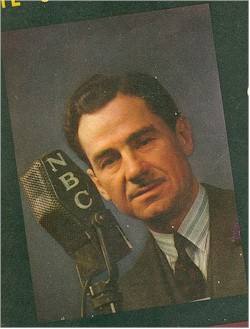 Who was Lowell Thomas
Thomas was born in Woodington, Ohio, in Darke County, the son of Harry and Harriet (Wagner) Thomas. His father was a doctor and his mother a school teacher. In 1900, the family moved to the mining town of Victor, Colorado. There he worked as a gold miner, a cook, and a reporter on the newspaper.
In 1910, Thomas graduated from Victor High School, where one of his teachers was Mabel Barbee Lee. The following year, he graduated from Valparaiso University with bachelor's degrees in education and science. The next year he received both a B.A. and an M.A. from the University of Denver and began work for the Chicago Journal, writing for it until 1914. While in Chicago, he was a professor at the Chicago-Kent College of Law, teaching oratory. He then went to New Jersey, where he studied for a master's at Princeton University (he received the degree in 1916) and again taught oratory at the university.
A relentless self-promoter, Thomas persuaded railroads to give him free passage in exchange for articles extolling rail travel. When he visited Alaska, he hit upon the novel idea of the travelogue, movies about faraway places. When the United States entered World War I, he was part of an official party sent by President Wilson, former president of Princeton, to "compile a history of the conflict." In reality the mission was not academic. The war was not popular in the United States, and Thomas was sent to find material that would encourage the American people to support it. Thomas did not want to merely write about the war, he wanted to film it. He estimated that $75,000 would be needed for filming, which the U.S. government thought too expensive, and so he turned to a group of 18 Chicago meat packers. (He had done them a favor by exposing someone who was blackmailing them, without the damaging material becoming public.)
Lawrence of Arabia
Thomas and a cameraman, Harry Chase, first went to the Western Front, but the trenches had little to inspire the American public. They then went to Italy, where he heard of General Allenby's campaign against the Ottoman Empire in Palestine. With the permission of the British Foreign Office, as an accredited war correspondent, Thomas met T. E. Lawrence, a captain in the British Army in Jerusalem. Lawrence was spending £200,000 a month encouraging the inhabitants of Palestine to revolt against the Turks. Thomas and Chase spent several weeks with Lawrence in the desert, though Lawrence said "several days." Lawrence agreed to provide Thomas with material on the condition that Thomas also photograph and interview Arab leaders such as Emir Feisal.
Thomas shot dramatic footage of Lawrence and, after the war, toured the world, narrating his film, With Allenby in Palestine and Lawrence in Arabia, making Lawrence'Ä"and himself'Ä"household names. The performances were highly dramatic. At the opening of Thomas's six-month London run, there were incense braziers, exotically dressed women danced before images of the Pyramids, and the band of the Welsh Guards played to provide the accompaniment. Lawrence saw the show several times, and though he later claimed to dislike it, it generated valuable publicity for his own book. However, to strengthen the emphasis on Lawrence in the show, Thomas needed more photographs of him than Chase had taken in 1918. Lawrence therefore agreed to a series of posed portraits in Arab dress in London, though he claimed to be shy of publicity. Thomas later said of Lawrence, "He had a genius for backing into the limelight." Thomas and Lawrence's initially friendly relations grew colder as Thomas's show grew in popularity, with Thomas ignoring several personal requests from Lawrence to stop the show.
The shows gave Lawrence a degree of publicity that he had never previously experienced. Newspapers became keen to print his attacks on Government policy, and politicians began to pay attention to his views. At the end of 1920, he was invited to join the British Colonial Office, under Winston Churchill, as an adviser on Arab affairs. However, Lawrence said that he never forgave Thomas for exploiting his image, and called him a "vulgar man." For his part, Thomas genuinely admired Lawrence and continued to defend him against attacks on his reputation. Lawrence's brother, Arnold, extended Thomas an olive branch and allowed him to contribute to T.E. Lawrence by his Friends (1937), a collection of essays and reminiscences published after Lawrence's death.
About four million people saw the show around the world, and it made Thomas $1.5 million. Thomas would also later write a book, With Lawrence in Arabia (1924), about his time in the desert and Lawrence's exploits during the war. It would be the first of fifty-six volumes.
Victor Lowell Thomas Museum
The Victor Lowell Thomas Museum houses two floors of artifacts, books, exhibits and photographs depicting the life in Victor from its beginnings to the heyday of gold mining. The museum also displays memorabilia once owned by famous journalist, author and world traveler, Lowell Thomas.
The gift shop offers books, historic maps and postcards, prints, posters and gold ore rocks, as well as videos of Lowell Thomas's life.
Pan for real gold and gems open daily outside the museum and take a tour of the real, working gold mine.
The museum, located at the corner of 3rd St. and Victor Ave. is housed in an 1899 brick structure that once was a hardware store, hotel and furniture store.
The museum is open Memorial Day thru Labor Day and by appointment at other times. Call 719-689-5509 for hours and group tours.
Expanded Summer Hours
Open 7 days a week 9:30-5:30 until Sept. 6 and then weekends through Oct. 10.
This summer we will be expanding our mine tours and our hours, thanks to the Cripple Creek & Victor Mining Company. Tours will be held at 10 am. and 1 p.m. Tuesday, Wednesday, Friday, Saturday from June 1 to 30, and Monday, Tuesday, Wednesday, Friday, Saturday July 1 - Sept. 4. See giant trucks hauling ore, boulders mashed into pebbles in the crusher, the depths of the largest gold mine in Colorado.
Reservations are suggested for tours.