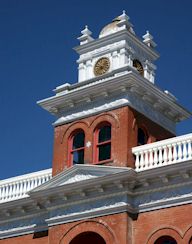 Victor City Hall and Museum
Victor City Government and museum operates out of the historic City Hall on Victor Avenue. Meetings are the second and fourth Thursday at 7pm. To contact City Hall, call (719)689-2284 Monday thru Friday from 7am - 4pm. The mailing address is PO Box 86, Victor, CO 80860.
Victor was founded in 1891, shortly after Winfield Scott Stratton discovered gold nearby. The town boomed as the surrounding Cripple Creek mining district quickly became the most productive gold mining district in the United States. Although Victor's fame was overshadowed by that of its neighbor, Cripple Creek, many of the best gold mines of the Cripple Creek district were located at Victor, including Stratton's Independence Mine and Mill and the Portland mine.
The workforce became heavily unionized after the militant Western Federation of Miners (WFM) conducted a significant strike in 1894. A subsequent strike in 1903 had such an impact that it came to be called the Colorado Labor Wars. The WFM's union hall in Victor still stands, with telltale bullet holes left intact. The building has structural problems and needs renovation.
Many of the historic buildings date to 1899 (having been rebuilt then, after a fire in August of that year destroyed much of the community). Included among these are the St. Victor Roman Catholic church (now used only rarely), the First Baptist Church of Victor (once owned by the Woods brothers, Victor's founders), the Victor Hotel (which contains the oldest commercially operating elevator in the state), and several others.