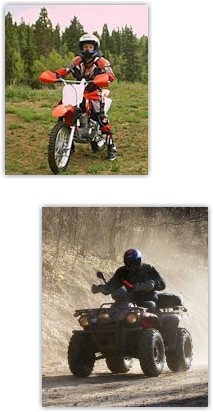 Teller County ATV, Dirt Bike and 4-Wheel Drive OHV Adventures
ATV riding, dirt bike riding, and four wheeling are a growing part of the adventures many visitors come to Teller County, Colorado to enjoy. There are hundreds of miles of trails open to the public leading into and through some of the most beautiful scenery in Colorado.
Wildlife has become accustomed to the mechanical noise and will often simply remain near the trails allowing you to drive by at a relatively close distance. Most will flee, however, the moment you stop and turn off your motor.
ATV and dirt bike riding is enjoyed by many and you will often see entire families traveling together along the trails. For many, this form of travel is the only way they would ever see the natural beaver ponds, deep forest meadows, or the perfect view from the top of a mountain ridge.
The North Divide and Lower Trout Creek trailheads are open to ATVs and singletrack dirt bikes while The Gulches is open to 4-wheel drive OHV vehicles only. All of these trails see year round use with the greatest number of users during the summer and early fall months.
ATV and dirt bike riding is an exciting, adventurous, and potentially dangerous sport. Instruction is recommended before taking to the forest trails where you need to remain alert for newly fallen trees, wildlife suddenly appearing on the trail, and other trail users approaching you from the opposite direction. Most ATV and dirt bike riders will tell you there's no more enjoyable way to be in the woods then riding through them.
The state of Colorado, jointly with the input and assistance of several responsible riding clubs & organizations, the National Forest Service, the Bureau of Land Management, the Colorado Department of Wildlife, and others supporting the conservative use of our valuable land resources, has developed a series of trails throughout Teller County. These trails have been designed to allow maximum joint use of the forests while limiting the damages caused by erosion and water runoff.
Please stay on all marked trails while enjoying and exploring our Teller County forests. Our very short growing season means vegetation destroyed by riders going off trail may take years to grow back. Melting winter snows may cause erosion along these trails and quickly destroy the area.
There are several ATV rental services nearby who can get you ready for the trails quickly and safely.