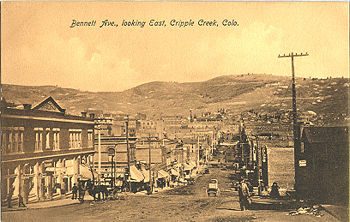 Historic Cripple Creek Colorado
At an elevation of 9,494 feet and just below timberline, for many years Cripple Creek's high valley was considered no more important than a cattle pasture. Many prospectors avoided the area after the misnamed Mount Pisgah hoax, a mini gold rush caused by salting (adding gold to worthless rock).
On October 20, 1890, however, Robert Miller "Bob" Womack discovered a rich ore and the last great Colorado gold rush was on. Thousands of prospectors flocked to the region, and before long W. S. Stratton located the famous Independence lode, one of the largest gold strikes in history. In three years, the population increased from 500 to 10,000 by 1893. Though $500,000,000 worth of gold ore was dug from Cripple Creek, Womack himself would die, penniless, on August 10, 1909.
By 1900 Cripple Creek and its sister city, Victor, were substantial communities.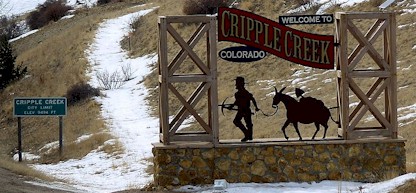 During the 1890s, many of the miners in the Cripple Creek area joined a miners' union, the Western Federation of Miners (WFM). A significant strike took place in 1894, marking one of the few times in history that a sitting governor called out the national guard to protect miners from forces under the control of the mine owners. By 1903 the allegiance of the state government had shifted, however, and Governor James Peabody sent the Colorado National Guard into Cripple Creek with the goal of destroying union power in the gold camps. The WFM strike of 1903 and the governor's response precipitated the Colorado Labor Wars, a struggle that took many lives.
Through 2005, the Cripple Creek district produced about 23.5 million troy ounces (731 tons) of gold. The old underground mines are exhausted, but open pit mining has operated since 1994 east of Cripple Creek, near its sister city of Victor, Colorado.
With many empty storefronts and picturesque homes, Cripple Creek once drew interest as a ghost town. At one point the population dropped to a few hundred, although Cripple Creek was never entirely deserted. In the 1970s and 1980s travelers on photo safari might find themselves in a beautiful decaying historic town. A few restaurants and bars catered to tourists who could drive by weathered empty homes with lace curtains still hanging in broken windows.
Colorado voters allowed Cripple Creek to establish legalized gambling in 1991. Cripple Creek is currently more of a gambling and tourist town than a ghost town. Casinos now occupy many historic buildings. Casino gambling has been successful in bringing revenue and vitality back into the area. It also provides funding for the State Historical Fund, administered by the Colorado Office of Archaeology and Historic Preservation.
Cripple Creek Colorado
Find out more about Teller County by viewing the 2010 Teller County Guide published by Pikes Peak Courier View. Click here
Teller County Guide
to review the entire guide online.