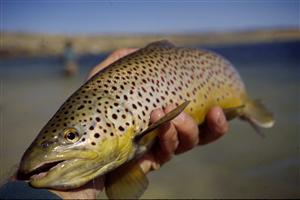 Lake George, Colorado
About 42.3 miles northwest of Colorado Springs and 7.3 miles northwest of Florissant, the town of Lake George was established in 1891 as a railroad stop for the Colorado Midland Railway (CM) which had been completed in 1887.
The town and nearby lake - to its west and fed by the South Platte River - were named for the lake in New York. The lake itself freezes mostly solid in the wintertime, which made it ideal for railroad men to cut large blocks of ice from it in order to keep perishables cool. A privately-owned ice company here supplied the needs of much of the Pikes Peak region. Ice cut during the winter was shipped on the CM to both Colorado Springs and the Cripple Creek, Colorado district.
Also related to the town's railroading history, a short walk into the surrounding hills reveals Chinese bread ovens, from the period their labor was imported. At the turn of the century the community's population was 30. After 1900 some farmers and ranchers nearby began raising high-altitude potatoes on a limited scale. This furnished the CM with some additional traffic. However, the CM closed in August 1918. Other railways then provided service to certain shippers along the otherwise idle CM railway. Up to that time this had been the shortest rail route through the mountains. Keeping the track open during winter proved expensive, and when the mining of ore dwindled, the tracks were torn up.
U.S. Route 24 follows the abandoned grade of the CM railway. By 1941 the community had grown to 100 persons and was the center of an extensive potato growing area. The community's population in 1965 was 100.
The just under 140,000 acre Hayman Fire, the largest fire in Colorado's recorded history, was started near Lake George on June 8, 2002.
Eleven Mile Canyon has its entrance at Lake George and is a favorite location for both bait and fly fishermen & women seeking rainbow, brook, and brown trout along with the occasional kokanee salmon.
Find out more about Teller County by viewing the 2010 Teller County Guide published by Pikes Peak Courier View. Click here