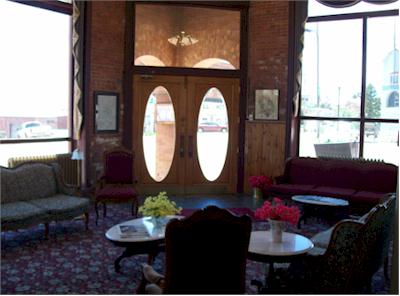 The Historic Victor Hotel
The Victor Hotel is a historic hotel in the mining town of Victor, Colorado. The hotel is a four-story Victorian brick building built in 1899-1900 by the town's founders, the Woods brothers. It is on the National Register of Historic Places.
Built of brick and stone, 1899-1900, this four-story structure was once considered the most modern edifice in the Cripple Creek District. The first floor of the building was originally the Citizen's Bank of Victor. It may be the only banking concern in the world where one of its depositors mined directly beneath the bank at five hundred feet from the surface.[1]
The building contained the offices of some of the most prominent men and businesses in Victor, including Dean Merrill Bodwell, J.W. Huff, J.E. Ferguson, Davis and Byler and H.G. Thomas, physician and father of Lowell Thomas. There were also the businesses of the Colorado Telephone Company, the Western Union Telegraph Company and H.H. Rosser.
After the Woods fell from power, A.E. Carlton bought the Bank Building, establishing his City Bank on the first floor. The second and third floors remained offices, but the fourth floor was converted unto a hospital, where operations, such as an emergency appendectomy, were performed as early as 1906.
In 1908, the building contained both a grocery and jewelry store as well as the City Bank. The City Bank failed during the depression.
In the 1930s, the bottom floor consisted of the Brass Rail Café and Bar, Bill Lehrs photography studio, and the lobby area contained Barretts furniture. Activity ceased during the Second World War.
In the mid 1950s and early 1960s there were various operations including a restaurant, Henry Munsteds gift shop and Reindels soda fountain. The 1960s brought an end to activity at the bank building.
Over the next two decades neglect brought the building to a dilapidated state. The property was purchased in October of 1991, by the Victor Hotel Limited Liability Company with Ivan S. Parr, of Conifer, Colorado as Manager.
The renovation process was begun that same month under the supervision of Marjoe D. Bandimere of Arvada, Colorado. The demolition phase was completed by spring of 1992. This phase was made more difficult because it was undertaken during especially harsh winter conditions (at times the workmen's sandwiches and coffee froze).
The reconstruction phase began in mid-March and was finished in August 1992. The overall goal was to completely rebuild the hotel and restaurant in accordance with current building regulations and requirements while retaining as much of the historic elements as possible.
The original Bird Cage elevator was retrofitted, the original woodwork was stripped and reused, and the original steam radiators were painted and replaced complete with individual thermostat controls. The objective was to provide modern standards of lodging and dining within a nationally registered historic building.
Location:
Victor Hotel
Address 4th St. & Victor Ave.
Victor, CO 80860
Additional Information:
Open year-round
Cable TV
Wireless Internet
20 Modern Rooms
Private Baths
Pet Room Available
(719)689-3553
(800)713-4595