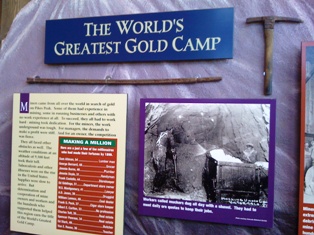 Pikes Peak Heritage Center
Cripple Creek, Colorado
The Pikes Peak Heritage Center located at the entrance to Cripple Creek, Colorado offers visitors a great opportunity to get a real "feel" for this Pikes Peak mountain community and region. The new state-of-the-art interpretive center overlooks the town of Cripple Creek.
The Pikes Peak Heritage Center encourages visitors to learn about the area through a variety of 21st century displays. Displays include a model railroad display depicting the historic gold camp railways. There is also a brand new art gallery featuring local artists with a Native American theme.
The Pikes Peak Heritage Center is an 11,600-square-foot facility built to mirror the historic building styles found in Cripple creek and the nearby mining town of Victor, Colorado. The Center features interactive displays that allow visitors to feel themselves become part of the past glory days of this famous gold mining camp. A variety of displays showcase historic photography, flora and fauna, the regions unique dinosaur discoveries. Of course no display would be complete without Pikes Peak "America's Mountain."
Visitors to the Pikes Peak Heritage Center also learn about gold mining, geology, and the human history of the Pikes Peak region. You'll also find current information about Teller County recreational activities and attractions.
Hours of Operation
April 2 - October 31:
9 a.m. - 5 p.m. seven days a week
November 1 - March 31:
10 a.m. - 4:30 p.m. daily
Closed Thanksgiving, Christmas and New Year's Day
Admission Price
FREE ADMISSION
Location
9283 S. Highway 67 Cripple Creek, CO
Cripple Creek, CO 80813
P.O. Box 430
719-689-3315
877-858-4653