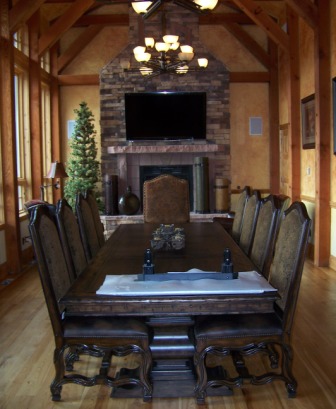 Teller County Offers Many Excellent
Conference Centers, Retreats and Resorts
Our dry and cool Rocky Mountain summer nights have many people thinking of Teller County retreats, resort locations, and conference centers when someone ask's, "where should we go to get away for a while."
Finding a great place for your family vacation, family reunion, wedding, group retreat, or youth group adventure is easy. Start by looking into what Teller County's retreat, resort, and conference centers have to offer.
Save gas and travel time while enjoying more of everything that is Colorado. Just a short drive from anywhere along the Colorado Front Range, a Teller County resort, retreat, or conference center is the perfect setting for your next large company event, group getaway, family reunion, wedding, or family vacation. Only 45-60 minutes from the Colorado Springs airport.
    Teller County Conference Centers, Retreats, and Resorts
 
Bristlecone Lodge
 
Christ Haven Lodge &Conference Center
 
Eagle Fire Lodge & Conference Center
 
Golden Bell Camp & Conference Center
 
Grey Wolf Ranch
 
Historic Triple B Ranch & Conference Center
 
John Wesley Ranch
 
Lodge at Elk Valley
 
Lost Dutchman at Trout Haven
 
Lost Valley Guest Ranch
 
M Lazy C Ranch
 
The Nature Place
 
Pikes Peak Resort
 
Praise Mountain Ministries
 
Rocky Mountain Lodge
 
Rocky Mountain Mennonite Camp
 
Ute Pass Cultural Center