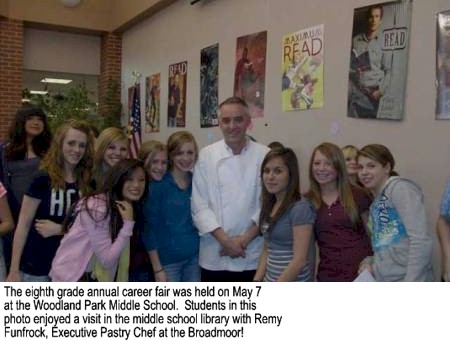 Schools and Education
Teller County schools strive and succeed in helping ALL of our students find the education they need to become successful adults.
Education is very important and there truly are special benefits to attending school in a rural mountain community. Many of our county teachers choose to work in our school districts due to the quality of life available in our mountain communities. They quite often accept less in pay yet care deeply for and bring a tremendous amount of passion to their classrooms each day in support of their students. The usually smaller classes within the various schools means more one on one support for every student. The positive connection between the educators and the students is obvious and rewarding for students, parents, and teachers.
---

Woodland Park RE2 School District
Woodland Park School District is nestled in the shadow of Pikes Peak approximately 20 minutes "up the pass" from Colorado Springs. Our district is large enough to offer comprehensive programs at all levels, but small enough for the personal attention and comforts of a caring community.
Woodland Park School District consistently scores among the top districts academically in the Pikes Peak region with particular attention to longitudinal growth for all students. Our students compete every year at the state and national levels in many of our sports, academic competitions, and activities.
Recent Woodland Park graduates have been awarded the Boettcher Scholarship, received appointments to the United States Air Force Academy and Merchant Marine Academy, and have been accepted to Georgetown, Stanford, Northwestern, Tulane, Vassar, University of Chicago, Washington University, and Colorado School of Mines, to name a few.
If receiving a world-class education while enjoying the beautiful Colorado mountains and participating in small town traditions is what you want for your child, then you're in the right place.
Website:
http://www.wpsdk12.org

Cripple Creek-Victor RE1 School District
Cripple Creek-Victor School District RE-1 is located southwest of Colorado Springs in beautiful southern Teller County. The District has a total enrollment of approximately 450 students in preschool through twelfth grade. Cresson Elementary School offers grades PK-6 as well as Head Start. The District also sponsors a home-based Early Head Start Program. Cripple Creek-Victor Junior/Senior High School houses grades 7-12. Our Mountain Alternative School Program, located across the street from the secondary building, provides programming for high school students who need an alternative setting.
The district's mission is "Achieving Excellence One Student at a Time." Our highly qualified staff, a board of education which is committed to providing quality education, our small class sizes, and our focus on the success of each of our students continually produce strong student relationships, our ever rising academic achievement and growth, prepared students for the 21st century, and solid community and parent partnerships.
Website:
http://www.ccvschools.org

Colorado Springs Christian School - Woodland Park Campus
In 1966, five men recognized the need for Christian education in Colorado Springs and began meeting weekly for prayer concerning their vision for a Christ-centered school. After five years of diligent prayer, in 1971, God opened the necessary doors for CSCS to be established. This firm dedication to a biblically focused education program grounded in prayer continues today.
Building on its 39 year legacy, CSCS offers students a well-rounded education - from a comprehensive academic program to a full complement of co-curricular opportunities. All courses are taught from a Christ-centered, biblical perspective by a committed and caring faculty. As an independent, non-denominational school, CSCS is accredited by the Association of Christian Schools International (ACSI) and the North Central Association Commission on Accreditation and School Improvement (NCA CASI).
http://www.cscslions.org